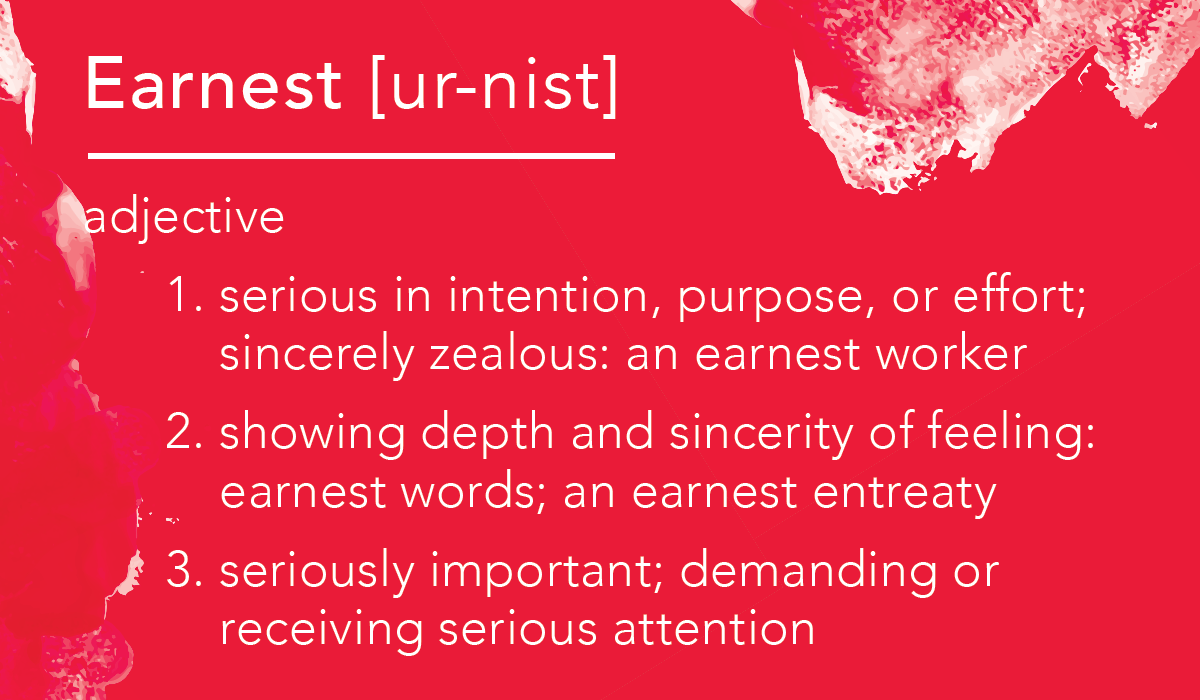 WHO WE ARE
INDUSTRIOUS. INTENTIONAL. INVESTED.
EARNEST is a brand marketing consultancy helping consumer lifestyle brands and businesses connect the dots between creative, commerce, PR and ops. Results of our work accelerate sales and trial, build brand awareness/relevance, instill operational excellence … and position the company for sustainable growth.
We are typically brought in when a company or team is at an inflection point in their business—when it is critical to think differently, explore new ideas and enhance current go-to-market tactics without missing a beat. Offering savvy perspective and unbiased consultation, we operate on macro and micro levels across multiple digital and traditional disciplines, industries and time zones to make things happen.
WHAT WE DO (AND HOW WE DO IT)
BRAND DEVELOPMENT AND COMMUNICATIONS
We get to the core of your brand—what you stand for, who you're speaking to and why people should listen—and define the pathways and expression for every interaction of the customer's brand journey for optimal engagement.
Customer ethnography research (existing and aspirational)

Marketplace research

Positioning and messaging

Visual design and style guide

Multimedia content development

Website and marketing collateral
CONSUMER ACTIVATION AND GROWTH STRATEGY
Marrying data insights with creative expression, we take a bootstrap approach to achieve 360° brand impact—with the right audiences, at the right times, in the right places..
Content marketing

Experiential (events, mobile and popup)

Loyalty marketing

Partnerships and Sponsorships

Public relations

Social media and paid digital marketing

Retail marketing
FRACTIONAL EXECUTIVE
When you need someone at the helm of a top-priority project—to get it off the ground or turn it around. We seamlessly plug in with all company stakeholders and steer the project like it was our own.
Full-services management

Specialty resources, dependent to the project
AGENCY CONSULTATION
We help brands understand what agency structure will best suit their organization. We look at which functions should be brought in-house, where can agencies provide the most value, and how agencies can be effective partners.
Organizational structure, need analysis

Agency consultations (existing agencies)

Agency search, evaluation and RFP (new agencies)

Onboarding and integration
ORGANIZATIONAL CHANGE
We work with you to understand the optimal structure for your marketing organization, helping to right-size it and fill it with the highest-performing team.
Corporate culture transformation

People analysis

Training suggestions

Organizational structure

Recruiting assistance

Reporting and benchmarks
MEET MELISSA
Melissa Cabot has a track record delivering breakthrough marketing and business development programs that grow awareness, profit and team pride. With experience in nearly every facet of the industry—from events to copy writing to paid digital strategy to public relations—she brings sense and sensibility—a blend of analytics and creative thinking—to everything she does.
Melissa has built brands and marketing solutions for emerging and global companies such as Lucky Brand, MTV, Bare Escentuals, Caruso, IMAX, ipsy, Progressive Insurance, Condé Nast, Merrill Lynch and Old Navy, as well numerous small businesses and start-ups.
WHERE WE'VE BEEN
We cut our teeth with the best of them: